Five Easy & Effective Pantry Pest Prevention Tips For West Chester, PA Homes
February 26, 2021
It's not fair that we have to live alongside insects and creatures, but it's a reality. The majority of pests have frightening appearances and unpredictable behaviors. Many harbor nasty germs that can bring about illness. If they aren't jeopardizing human health, they're wrecking buildings and personal effects. Plenty of West Chester, PA homes and businesses have been victims of creepy crawlers. If a critter can procreate quickly or is hard to eliminate, the potential risks are high. This applies to pantry pests.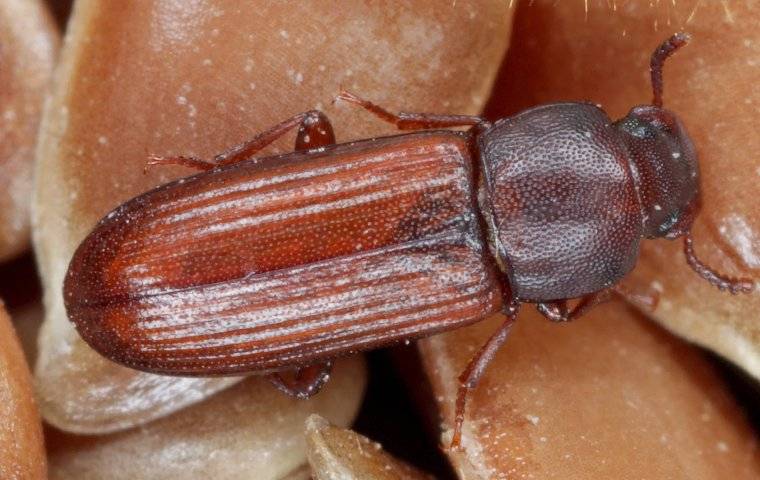 Five Helpful Tips
Pantry pests are extremely small bugs that infiltrate cabinets and food, ultimately ruining fare. The average person doesn't know a lot about them, so it can be tough figuring out how to manage or stop them. These five tips from Masters Touch Pest Solutions will be insightful and come in handy.
1. Take a Second Look at Your Groceries
When you're at the grocery store, look over prospective items. Make sure the wrapping isn't torn, punctured, or has any significant openings. Be especially detailed when scanning paper packaging. These are especially susceptible to pantry pests. Avoid buying dry goods in bulk. While you are not required to report any defective or problematic products, it might help your local retailer and future customers if you did.
2. Be Tight With Your Food Storage
Put meals in airtight containers with secure lids. Don't bother with bags made of plastic or paper. This practice goes for pet food as well.
3. Clean The Kitchen Thoroughly
As you can imagine, pantry pests are found in kitchen areas. Doing a deep cleaning on a routine basis is advised. To start, take everything out of the pantries and cabinets. Inspect each unit. Throw away anything that is expired, tattered, or worn. Then, sanitize and wipe out the interiors. Let the spaces dry before filling them back up.
4. Rev Up On Repairs
Being carried in with affected food isn't the only way pantry pests get inside domiciles and establishments. They crawl through holes around doors and windows. Given this, you'll want to attach sweeps and weather-stripping where applicable. The next logical step is to verify the quality condition of protective covers and screens. You can purchase caulk and plug up voids in foundations, ceilings, appliances, and cabinets.
Typical pantry pests in the region are Indian meal moths, and flour and grain beetles. Indian meal moths are 0.37 of an inch long. Their figures are outlined by gray wings that stretch to 0.62 of an inch wide. At the bottom is a brown or bronze tint. The brown-headed young are yellow-green, pink, or cream. Flour and grain classes are usually reddish-brown or brown. Size-wise, they range from 0.03 to 0.06 of an inch long. They include species like:
Red flour beetle
Confused flour beetle
Saw-toothed grain beetle
Merchant grain beetle
Foreign grain beetle
No matter the type, pantry pests have these traits in common:
They eat pet meals, dry goods, grains, rice, cereal, fruit, flour, spices, tobacco, and more.
The adults infiltrate distribution factories and lay eggs; larvae are the most detrimental.
They don't bite or sting, or spread pathogens, diseases, and parasites.
Their webs and waste taint food, change flavoring and facilitate mold growth.
Infested things should be thrown away immediately.
5. Contact Masters Touch Pest Solutions
The licensed technicians at Masters Touch Pest Solutions have the skills to execute custom treatment plans for pantry pests. Our safe solutions are industrial-grade and embrace eco-friendly avenues. Three affordable and comprehensive subscriptions are available for you to choose from. Start the process of protecting your kitchen today. Call us today at Masters Touch Pest Solutions and receive a free quote!

Previous
Next