The Best Way To Eliminate A Flea Infestation In Your Chester Springs Home
September 26, 2022
There is no denying that fleas are a problem here in Chester Springs. The question is, are they only a problem for pet owners? Absolutely not. Fleas regularly find their way into area homes, with or without cats, dogs, and other furry friends. If you suspect these pests have taken residency around your living areas, here is what you need to know to eliminate them fast. For less reading and more solutions, call Masters Touch Pest Solutions. One of our experts will talk you through our flea control options and schedule your home for a service visit. To learn more about how to eliminate a flea infestation in Chester Springs, here are some things to consider today.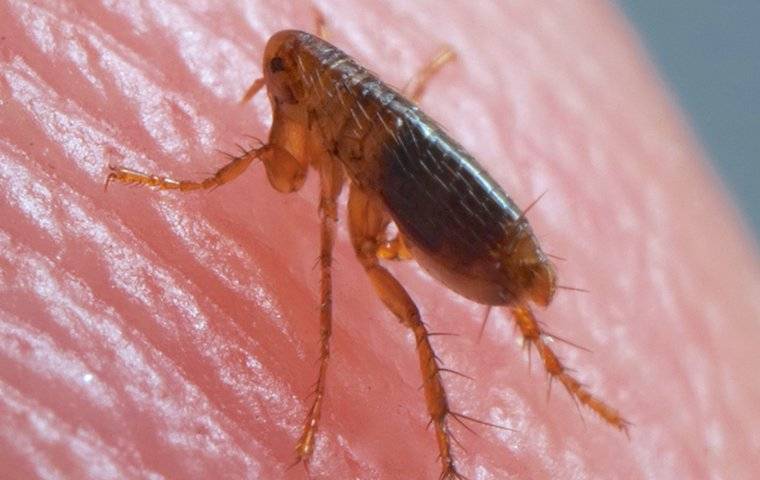 How To Identify A Flea Infestation
There are many ways to find fleas inside your home. If you have furry pets, we recommend starting your search inside their fur. Fleas love dense fur and will use this secluded location to lay their eggs. If you check your pets' fur and see small brown bugs moving around, it's probably fleas. If you do not have pets but are waking up with bite marks on your body, you still may have fleas. Thoroughly check your carpet, furs, furniture, and other areas that might provide these pests with a place to hide. If you are not confident in your investigative abilities, let one of our flea exterminator specialists pay your home a visit. Our team knows how to identify fleas and would be happy to assist you today.
Fleas Can Be Hazardous To The Health Of People And Pets
The biggest problem associated with fleas is blood-borne diseases. If you didn't know, these small pests were the main spreaders of the bubonic plague back in the 13th century. Today they spread a number of harmful diseases including tularemia, murine typhus, and tungiasis. The only true way to avoid getting sick is to invest in some form of pest control for your home and your pets.
All The Ways Fleas Find Their Way Into Our Homes
The most common way fleas get into area homes is by riding in inside the fur of pets. If you have an outdoor cat or dog, make sure they have a flea and tick collar. This is the absolute best way to reduce your chances of finding these bugs inside. Now, fleas are not just pet pests. They get indoors in a variety of different ways. One clever way fleas sneak indoors is by riding on other pests like rats, mice, squirrels, birds, and bats. These wildlife creatures are regularly afflicted by blood-feeding parasites and carry them around wherever they go. Once indoors, fleas will hop off and find their way into your carpets, bedding, and other secluded areas. If you are looking for some flea prevention tips to keep these pests out, here are a few strategies to use today.
Make sure your outdoor pets have flea/tick collars.
Use some silicone caulk and steel wool to seal gaps, cracks, and holes around your home's exterior foundation.
Invest in quality door sweeps for your exterior doors.
Make sure your home's weatherstripping is in good working condition.
Make sure your chimney has a rodent/bird-proof cap.
Keep unscreened doors closed when you are not using them.
Preventing fleas is not an easy process. It requires constant attention to detail and a decent knowledge of pest behavior. The best way to avoid a flea infestation is to implement a comprehensive pest control plan courtesy of Masters Touch Pest Solutions.
Professional Pest Control Is Key To Total Flea Control
Pests are a big problem here in Chester Springs. If you are looking for a way to avoid dangerous and annoying insects like fleas, you need help from a professional. At Masters Touch Pest Solutions, we offer detailed services to aid homeowners in their fight against bug invaders. All you have to do is schedule an appointment for your home. We will send a technician your way ASAP. They will perform a detailed inspection, identify existing pest threats, and eliminate problems they find. If you are dealing with fleas and have pets, talk to your vet about how to get your furry friends flea-free while or before we perform treatments. This will help you avoid a re-infestation.
Contact us now if you aren't sure about pest control in Chester Springs. We will answer questions you have, quote a price for service, and help you schedule an appointment for your home to deal with an active flea infestation.
Previous
Next