What Do Springtails Look Like In West Chester
March 7, 2023
As we head out of winter here in West Chester we have some things to look forward to. We can look forward to mud all over the place, several months of road construction to fix pavement damaged by ice, and the return of many local pest problems. We are, of course, joking. These are not things that people look forward to! They are, however, what can be expected. One pest that you should expect to invade your home this spring is springtails. We are going to talk more about these local insects today and offer you ways to identify and deal with these pests in West Chester. Contact Masters Touch Pest Solutions if you already know about these invasive bugs and are trying to remove an active infestation from your home. Let us show you what pest control in West Chester can look like when you have experts on your side.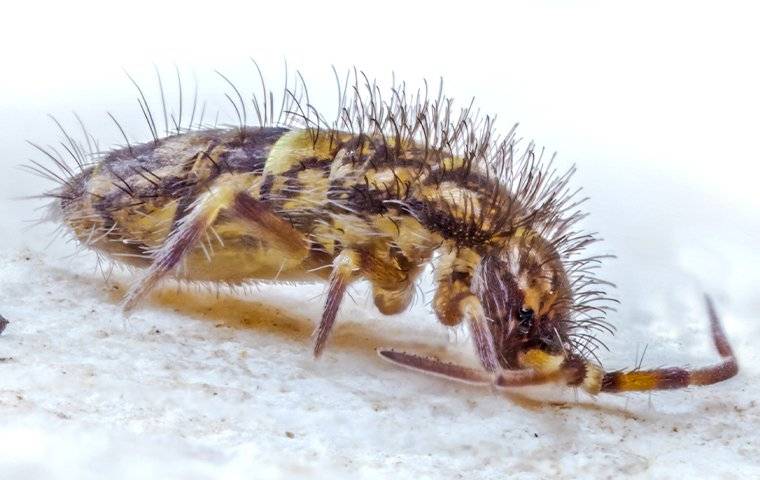 Springtail Identification Guide For West Chester Residents
Springtails are among the strangest insects that live here in West Chester. They get their name, not because they love springtime, but because of their ability to spring from the ground using their forked tails. You might also know these pests as snow fleas. They got this nickname for their unique ability to survive during the coldest months of the year and the way they hop around on snow. The challenge is actually seeing a springtail do this. These pests are only 1/16" long fully grown and are white, blue, dark gray, or black in color. If you see tiny jumping bugs inside your home, get our team involved. We are adept at helping homeowners identify springtail infestations in West Chester.
What Is Attracting Springtails To Your West Chester Home?
Springtails do not need homes as a place to stay warm. What they need is moisture. As we head further toward summer, we will have more and more dry days. These dry days will encourage springtails to seek out moist areas to hide. If your home has moisture problems and entry points these pests can use to get inside, these local insects may invade. Some common things that lead to moisture problems are leaky piping, damaged gutters, a lack of vents in bathrooms and kitchens, and moisture spills.
Things You Can Do Now To Avoid Springtails In West Chester
Before we talk about how to control springtails, we think you should know some common prevention tips that pest control experts recommend in order to stop infestations before they get into your home. Here are five simple tricks to start with today.
Clean up moisture spills when they occur inside your home and wipe down countertops and sinks after doing the dishes.
Repair leaky piping and fixtures inside your home.
Make sure your gutters are clean and working properly.
Invest in a dehumidifier to keep humidity to a minimum inside your home.
Seal gaps, cracks, and holes in your home's exterior foundation and address damage to windows and doors.
For more help with springtail control get our team at Masters Touch Pest Solutions involved.
Benefits Of Year-Round Pest Control In West Chester
When it comes to springtail control in West Chester, you should consider bringing in our team at Masters Touch Pest Solutions. We are local pest control experts who focus on providing unmatched identification, elimination, and long-term home pest control services. If you need help to get rid of springtails in West Chester, we are here for you!
Call our team at Masters Touch Pest Solutions to make an appointment for your West Chester home and find out how easy springtails are to control when you have help.
Previous
Next