Why Are There Ants In My West Chester Home And How Do I Get Them Out?
April 1, 2023
Ants are foraging pests that get into residential properties while seeking out food to bring back to their colony. However, when these tiny insects get into homes, they can cause quite a few problems.
Today we'll discuss the problems ant infestations cause and what could be attracting ants to your residential property. Or, for immediate assistance with your pest problems, don't hesitate to reach out to our pest management professionals at Masters Touch Pest Solutions. We offer effective West Chester pest control solutions designed to keep pests away for good. Reach out to us today to get started with your first ant pest control treatment.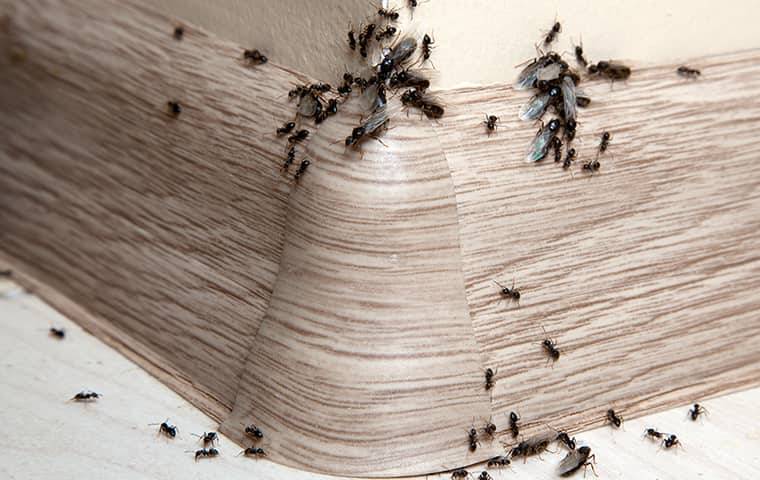 Does One Ant Mean I Have An Infestation?
We've all had the experience of minding our own business and suddenly spotting a lone ant crawling across the kitchen counter. The most important thing to understand about this scenario is that seeing one ant in your West Chester home doesn't automatically mean you have an ant infestation on your hands. However, if you don't act quickly to eliminate that ant, you will soon find more ants in your kitchen.
Ant colonies send out scout ants to find food. When a scout ant finds a food source in your home, it returns to its colony and alerts more ants to the location of that food source. Give our pest management professionals at Masters Touch Pest Solutions a call today if ants have gotten into your West Chester property.
What Problems Can Ants Create In My Home?
In most situations, ants are nothing more than nuisance pests. These tiny insects seem to come out of nowhere, creating trails to and from food sources in your home. No matter how sure you are that you've sealed every entry and exit point ants could use to invade, these insects still always find a way inside.
In addition to being an annoyance, ants also have the potential to spread harmful bacteria into your West Chester home. You never know where ants have crawled before they entered your home. Unfortunately, this means ants can contaminate food items and counter surfaces with pathogens, bacteria, and diseases.
Protect your home and family from the problems ants cause by partnering with our pest management professionals here at Masters Touch Pest Solutions. We offer excellent home pest control services to keep your property ant-free throughout the entire year.
What's Attracting Ants To My Home?
Ant control solutions from a reliable pest control provider are always your best option when it comes to dealing with an ant infestation. However, you can reduce the chances that ants invade your home by removing factors that may attract them. What attracts ants may vary between species, but a few common attractants include:
Crumbs and food debris on your counter surfaces
Excessive moisture issues in your home
Open or exposed garbage cans
Dirty dishes left in your sink
Sticky drink spills on your counters and floors
If ants have gotten into your West Chester home, our pest management professionals from Masters Touch Pest Solutions can help. Contact us today to set up your first service visit or request a free quote.
How Do I Get Rid Of An Ant Infestation?
Once you've implemented a few ant prevention tips, what's next? The most effective way to control ant infestations is to reach out to a trusted pest control provider like Masters Touch Pest Solutions for help. We have experience handling pests of all shapes and sizes, including a wide range of ant species. It's our goal to deliver high-quality pest management services so you can experience a life free of pest problems.
Get in touch with our pest management professionals from Masters Touch Pest Solutions today and learn more about our effective ant control services.
Previous
Next